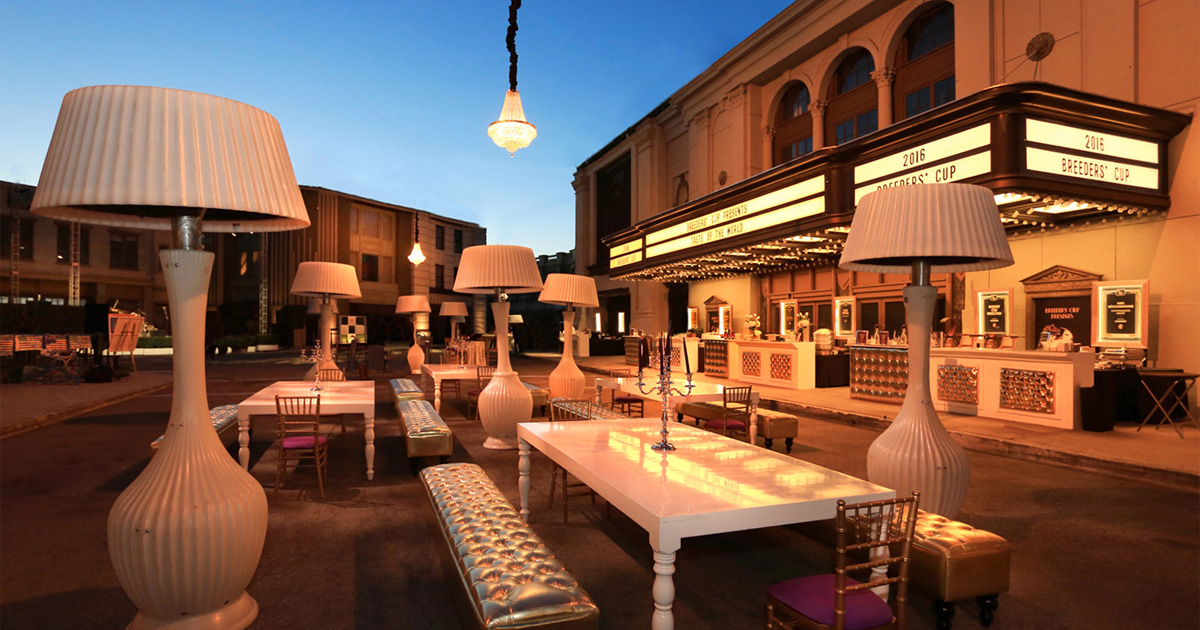 10 Apr

Hollywood Studio Events: Vintage Glamour

As they stepped off the custom purple arrival carpet, the 1,200 guests of the Breeder's Cup Sixth Annual Taste of the World were transported back to the golden age of Hollywood studio events and all the accompanying divine decadence.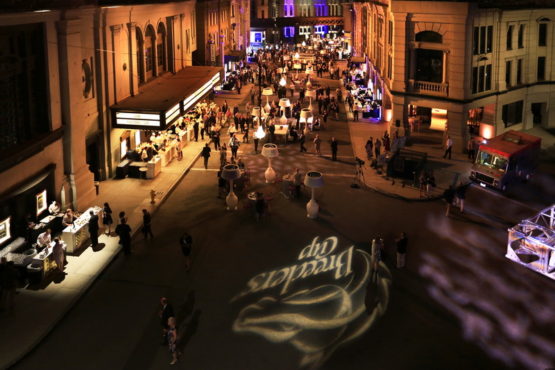 This year the event was hosted by the Breeder's Cup Ambassador, horseman and celebrity chef Bobby Flay. With Flay in the saddle, it was no surprise that this evening would highlight the international appeal of the Breeder's Cup through cuisine.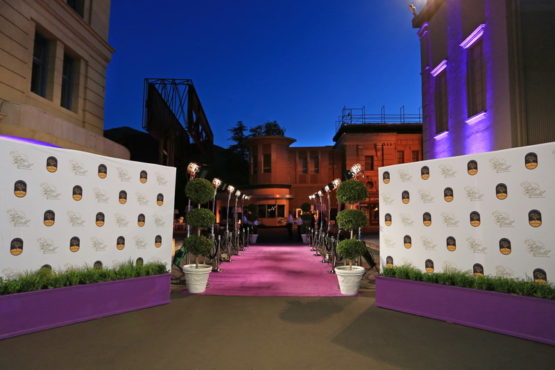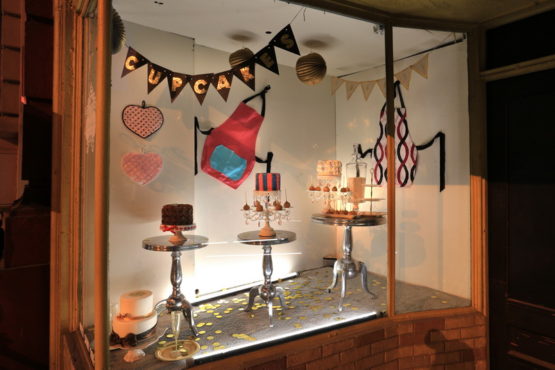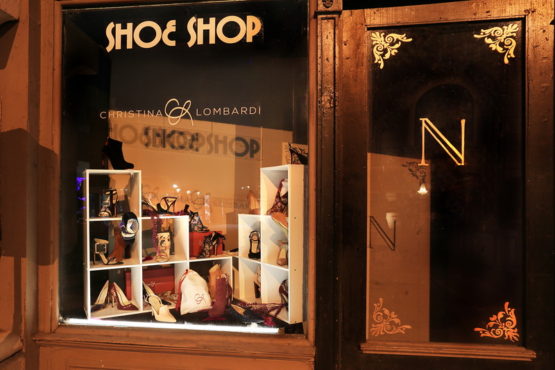 Fifteen world-class chefs offered dishes from their country against a backdrop inspired by the twenties. Our facades along New York Street were the perfect showcase to create the look and feel of New York of that era. There was a cupcake shop previewing the Goodie Girls and the Breeder's Cupcake Collection, and vintage Art Deco store fronts offering hats, shoes and a coat check designed with period piece props from the WB property department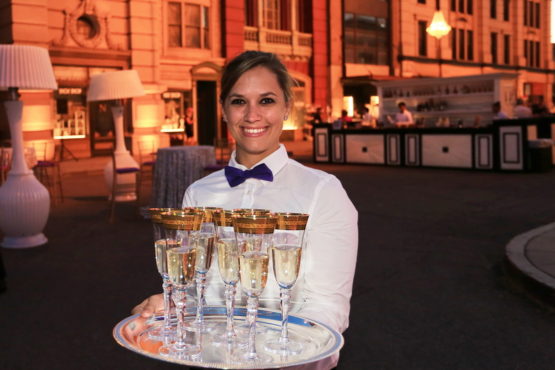 Down the middle of New York Street, gold and white furnishings for community seating made it easy for guests to join together at each area and enjoy their culinary bites. And tucked away down little alleys, speakeasy style, were little pockets of glamour … a lounge area in one of the facades (below), glittering cocktail tables down an alley and yet another intimate setting of luxurious furnishings in an out-of-the-way nook.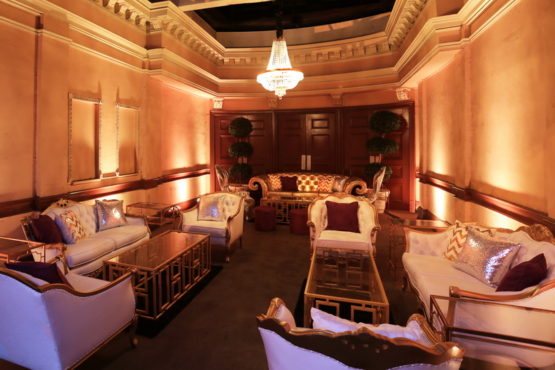 "The Hollywood glamour and spectacular setting of Warner Bros. Studios made this a truly special evening and reinforces Breeder's Cup's commitment to combine world-class horse racing with the best in hospitality and entertainment," said Craig Fravel, President and CEO of the Breeder's Cup.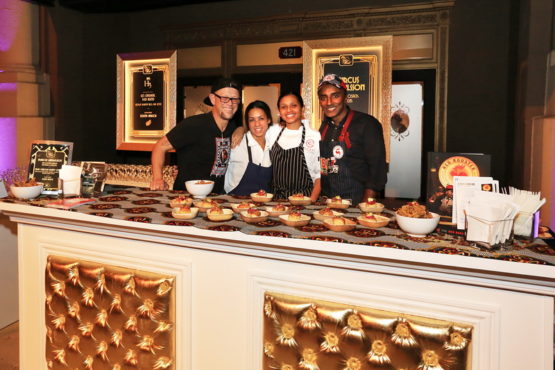 The impressive roster of chefs includes Raymond Garcia of Broken Spanish, Jared Levy of Eveleigh, Fernando Darin of Ray's and Stark Bar, Roger Mooking of Twist by Roger Mooking, Susan Feniger of Border Grill, Tony Esnault of Church and State, Hans Röckenwagner of Röckenwagner Café, Christopher Shane Chan Yai Ching of Nobu Caesars Palace, Michael Frauenheim of Rick Moonen's RM Seafood, Marcus Samuelsson of Red Rooster Harlem, Ben Ford of Ford's Filling Station, Jeffrey Strauss of Pamplemousse Grille, Norah Briceño of Mil Jugos, Alex Sarkissian, of Momed, and Good Food Ireland chefs Ed Cooney of Dublin's luxurious The Merrion Hotel and Martin Shanahan of Fishy Restaurant in Cork.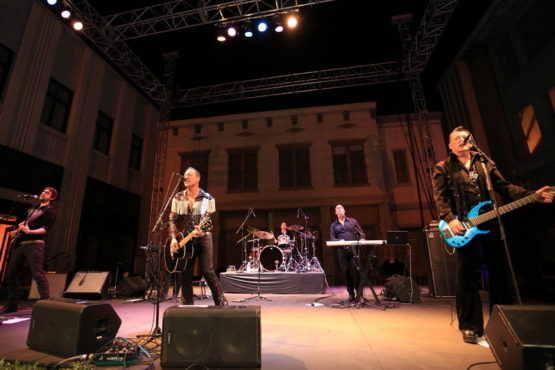 As guests enjoyed the cuisine and the stars, the Neil Diamond tribute band, Super Diamond, entertained.  For our event team, having the Breeder's Cup on the lot was an honor and a world-class event from the first moment out of the gate to the final moment we crossed the finish line together.
THE TEAM
Planning and Design: Warner Bros. Special Events
Venue: Warner Bros. Brownstone and New York Streets
Catering: Various restaurant chefs
Rentals: Town and Country Event Rentals | Classic Party Rentals | Lounge Appeal | Designer 8
La Tavola Linen | GBS Linen
Custom built gold frames: Parker Jordan
Floral: CJ Matsumoto